Welcome to the website of the Nottinghamshire Birdwatchers.
The Nottinghamshire Birdwatchers is a registered charity with membership open to all.
The society aims to promote an interest in birds in Nottinghamshire. We are a friendly group for anybody interested in wild birds, living in, or visiting, Nottinghamshire, irrespective of their level of knowledge, experience or skill.
The society is administered by Nottinghamshire birdwatchers for Nottinghamshire birdwatchers.
The society organises local guided walks and trips to birdwatching areas further afield. Communication is by this website, Twitter and by the newsletter that is published on a monthly basis. Membership is open to everyone from experts to beginners. We are also especially keen to attract younger members to the society.
Latest News & Information
A date for your Diary
Following last year's successful conference at Ravenshead, the Committee has decided to experiment with this as an annual event.
We have booked Ravenshead Village Hall again for 22nd November 2015.
Speakers will include:
Ian Newton on Raptor Migration.
Guy Shorrock (RSPB Investigations) on Raptor Persecution.
Jim Lennon on colour-ringing Grey herons and Little Egrets at Besthorpe.
Andy Lowe on Tracking birds in the Dukeries.
Sorrell Lyall on Birding: A young person's perspective.
Booking will be available later in the year. The price (including coffees, teas and lunch) will be around £17.
---
Our next event is
Netherfield Spring Warblerfest.
Sunday 17th May 2015 - led by Peter Smith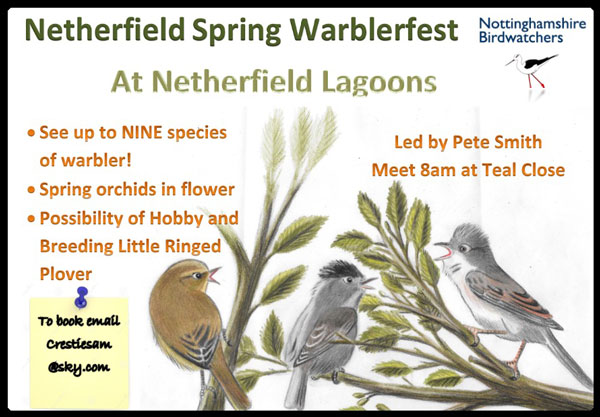 A guided walk on Sunday 17th May led by Peter Smith. For more information on this walk, and other fourthcoming walks please click HERE
---
Nottinghamshire Wildlife Trust
Sponsored Birdwatch/Birdrace May

2015
Nottinghamshire Wildlife Trust is resurrecting its Sponsored Birdwatch to raise funds for its Sherwood Forest Restoration Fund and the management of its 67 nature reserves across the county.
The Kingfisher' Trophy, presented to the team which records the most species during the event, is currently being looked after by Lound Bird Club, the last winners back in 2003, but the Wildlife Trust is now calling on teams to come forward from across Nottinghamshire to try and rest it from their grip.

For more information please click HERE
---
ebooks
by Mark Dennis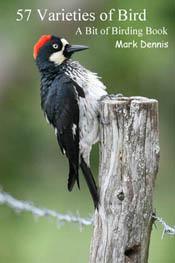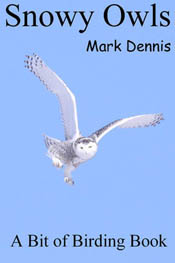 57 varieties of Bird and Snowy Owls are free, three others cost pennies.
More infomation on how and where to download these books HERE
---
The

2015

Nottinghamshire Birdwatchers
Bird Photography Competition.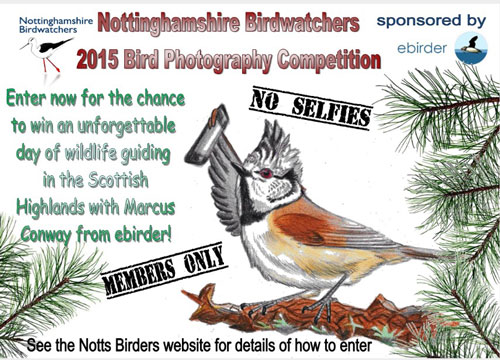 See HERE for further details on how to enter this Competition.
---
[28th July]
Sherwood Forest, Satellite tagged Cuckoo And Nightjar Project
news releases relating to these two exciting projects, Here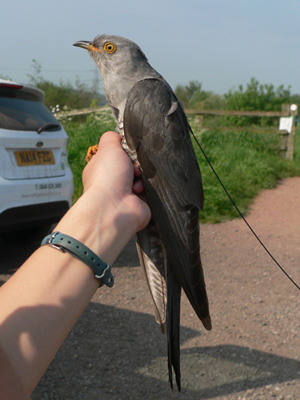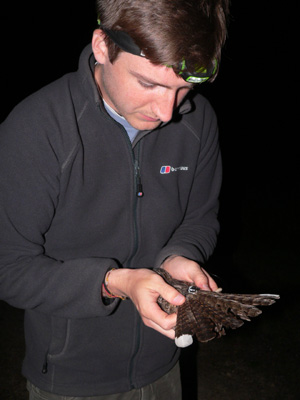 ---
Follow us on twitter
Nottinghamshire Birdwatchers is on twitter. You can use twitter to send us information on sightings, events and other relevant bird news.
Follow: @NottsBirders – #nottsbirding