Welcome to the website of the Nottinghamshire Birdwatchers.
The Nottinghamshire Birdwatchers is a registered charity with membership open to all.
The society aims to promote an interest in birds in Nottinghamshire. We are a friendly group for anybody interested in wild birds, living in, or visiting, Nottinghamshire, irrespective of their level of knowledge, experience or skill.
The society is administered by Nottinghamshire birdwatchers for Nottinghamshire birdwatchers.
The society organises local guided walks and trips to birdwatching areas further afield. Communication is by this website, Twitter and by the newsletter that is published on a monthly basis. Membership is open to everyone from experts to beginners. We are also especially keen to attract younger members to the society.
Latest News & Information
Notts Birders Annual Quiz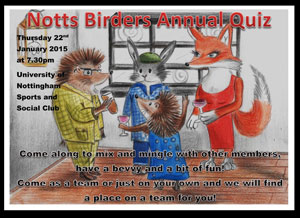 Notts Birders AGM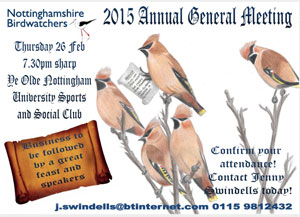 More details on both these events HERE
---
International Swan Census 17/18 January 2015
Every five years, Wetland International and the IUCN Swan Specialist Group co-ordinate an international census of the Icelandic Whooper Swan and Northwest Bewick's Swan populations. The weekend chosen for the survey is 17/18 January 2015, please get involved and submit all sightings to this very important survey.
More details can be found Here
---
New Years Day "Bird Race"
Competition starts at 00:00 hours on January 1st and ends at 00:00 hours on January 2nd
Participants must be members of Notts Birders.
More details on the News Page
---
Nottinghamshire Birdwatchers Guided Walks.
Our next walk is Hoards of Hawfinchs [Rufford Park].
Saturday 10th January 2015. Leader Carl Cornish.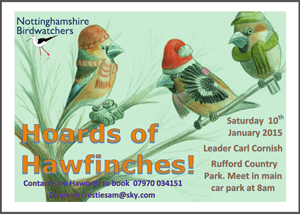 For more information on this walk, and other fourthcoming walks please click HERE
---
Birdseekers out of county minibus trips are back!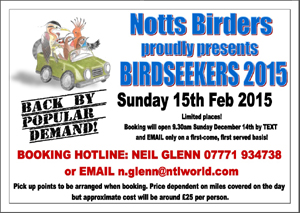 More information on how to book HERE
---
Newington Flash
The Idle Washlands have been attracting some very good birds this year, including a Great White Egret on Newington Flash on the 1st and 2nd September. This site was reported as been in Nott's, but in fact it's just over the border in South Yorkshire. The confusion comes from Notts and local birders using the same name for two different areas, one in Notts and the other in S Yorks.
A document explaining Nott's/York's site boundaries can be viewed HERE and will hopefully clarify site names and avoid confusion.
---
[28th July]
Sherwood Forest, Satellite tagged Cuckoo And Nightjar Project
news releases relating to these two exciting projects, Here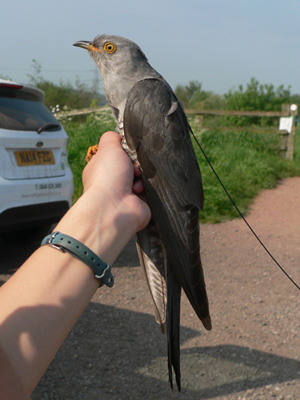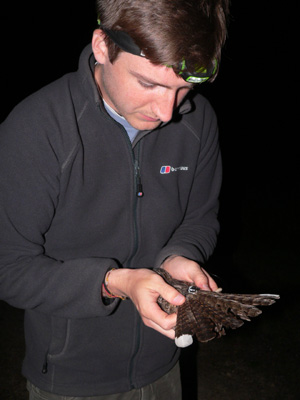 ---
Follow us on twitter
Nottinghamshire Birdwatchers is on twitter. You can use twitter to send us information on sightings, events and other relevant bird news.
Follow: @NottsBirders – #nottsbirding