Welcome to the website of the Nottinghamshire Birdwatchers.
The Nottinghamshire Birdwatchers is a registered charity with membership open to all.
The society aims to promote an interest in birds in Nottinghamshire. We are a friendly group for anybody interested in wild birds, living in, or visiting, Nottinghamshire, irrespective of their level of knowledge, experience or skill.
The society is administered by Nottinghamshire birdwatchers for Nottinghamshire birdwatchers.
The society organises local guided walks and trips to birdwatching areas further afield. Communication is by this website, Twitter and by the newsletter that is published on a monthly basis. Membership is open to everyone from experts to beginners. We are also especially keen to attract younger members to the society.
Latest News & Information
Nottinghamshire Wildlife Trust
[Updated 28th April]
Sponsored Birdwatch/Birdrace May

2015
The Kingfisher' Trophy, presented to the team which records the most species during the event, is currently being looked after by Lound Bird Club, the last winners back in 2003, but the Wildlife Trust is now calling on teams to come forward from across Nottinghamshire to try and rest it from their grip.

For more information please click HERE
---
Our next event is
Nightjar Watch - Led by Andy Lowe.
Monday 22nd June and Monday 3rd August 2015.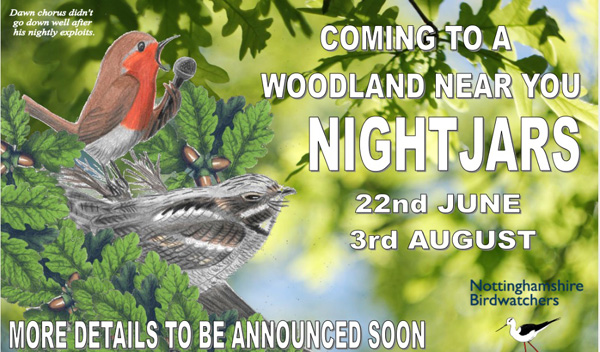 Further Details HERE
---
Grants for Young Birders
Carl Cornish
Since we had Sam Viles, A Next Generation Birder, and Lucy McRobert, A Focus on Nature, speak at our AGM in 2014 to give us a perspective of young people and their interest in birding and nature, the committee has been trying to think of ways to support young birders. We would, therefore, like to offer the opportunity of funding towards training or attending an event to help improve skills. Examples of the type of training/event we consider as eligible for funding includes:
. Attendance on a taught training course
. A visit/stay at a bird observatory
. Volunteering to help with bird surveying or conservation work
. Attending a bird conference
These are examples and others can be considered. We have decided to set an overall budget of £200 for the first year. So, depending on interest, it could be that there is a contribution by Nottinghamshire Birdwatchers towards the cost, which can include travel.
Eligible members interested in applying for funding should do so by emailing the Chairman, Carl Cornish, with details. The criteria for eligibility are:
. Applicant is 21 or under
. Applicant is a current member of Nottinghamshire Birdwatchers
. Details of cost will be provided
. Upon completion of the course/event, a short article will be written for publication in the - -newsletter.
When applying, please allow adequate time before the training event for a decision to be made by the committee.
If you would like to discuss a potential event for funding before applying please do contact Carl Cornish c.cornish1@virginmedia.com
Also, if you are a young birder and have suggestions of what we can do to help further please do let us know.
---
ebooks
by Mark Dennis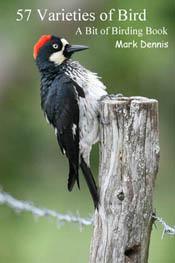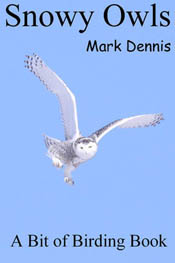 57 varieties of Bird and Snowy Owls are free, three others cost pennies.
More infomation on how and where to download these books HERE
---
The

2015

Nottinghamshire Birdwatchers
Bird Photography Competition.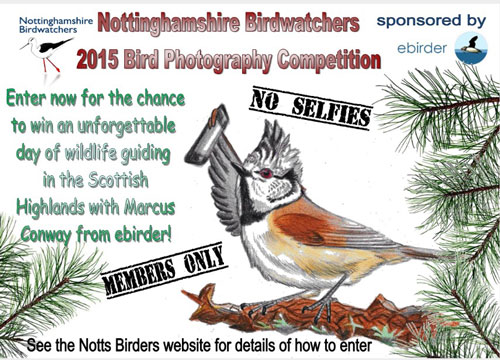 See HERE for further details on how to enter this Competition.
---
[28th July]
Sherwood Forest, Satellite tagged Cuckoo And Nightjar Project
news releases relating to these two exciting projects, Here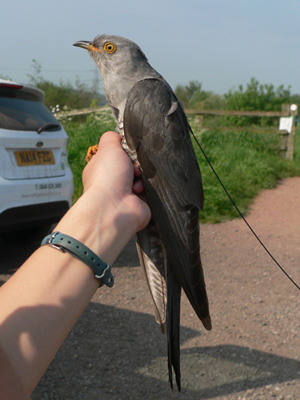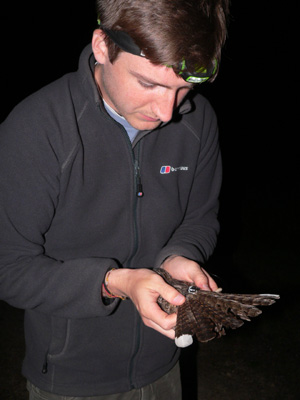 ---
Follow us on twitter
Nottinghamshire Birdwatchers is on twitter. You can use twitter to send us information on sightings, events and other relevant bird news.
Follow: @NottsBirders – #nottsbirding